(Adding categories)

 

(2 intermediate revisions by 2 users not shown)
Line 12:
Line 12:
 

[[Category:Animals from South America]]

 

[[Category:Animals from South America]]

 

[[Category:Omnivores]]

 

[[Category:Omnivores]]

 
+

[[Category:Minor Animals]]

 
+

[[Category:Hell creek animals]]

 
+

[[Category:Non dinosaurs]]
---
Latest revision as of 23:10, 5 March 2021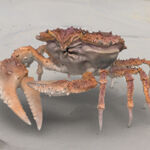 The crab is a very common crustacen in the modern seas and coasts and it was also very common in the age of the dinosaurs. In Dinosaur Revolution, crabs are shown in the third episode (Survival Tactics).
Cast
The crabs are very common on the Anhanguera scene. They are often hunted by those pterosaurs. It is also shown a young Anhanguera chasing a crab in the coast, but retreats when a metasuchian crocodyliform grabs the crab, drops it and chases the pterosaur.
Curiosities
If a crab loses it's "hand" it grows again but with a different size and form.