Welcome!

Welcome to Dinosaur Revolution Wiki,
The wiki dedicated to the Dinosaur Revolution series that anyone can edit!

Please read our rules and policies before editing here! Thank you!
---
This wiki is under construction. All help is appreciated!
Article of the Month (December 2013)
Tyrannosaurus rex was a giant theropod that lived at the end of the Cretaceous period. It appeared many times in the finale of Dinosaur Revolution, and despite the find that many other dinosaurs, like Majungasaurus where cannibalistic, T-Rex was depicted the most cannibalistic dinosaur of the show, which is incorrect.

Two T-Rexes, one named Jack Palance, the other Stumpy, fought on a beach over territory, but Jack, (the cannibal) ripped off the arm of his rival and ate it before pushing him down. His rival left.

We see Stumpy again with his mate Tinkerbelle, as his two babies play. They fall asleep and the pair chase a little Pachycephalosaur into a log, but then it disappears after chasing it out. They even walk on an adult Ankylosaur without any fuss. They fight over a little pine cone that fell near them, but Jack is there, and Jack cannibalizes the two offspring. The Stumpy and Tinkerbelle check and find the babies have been eaten. At night Stumpy comforts Tinkerbelle.
---
What is this wiki about?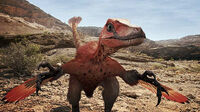 Dinosaur Revolution was a

Discovery Channel

documentary produced by

Creative Differences

. This series used CGI technology to portray extinct fauna from the

Mesozoic

era (and a brief scene with animals from the

Paleozoic

era). The episodes depicted the lives of the dinosaurs and the other animals which lived alongside them. This series has often been criticised for its lack of seriousness and for its amateur quality of animation and has been praised for its educational value and its general energy. A film version of Dinosaur Revolution has been released on DVD called Dinotasia, a version which includes all the best parts of the series without any narration.
<chat />
Dinosaur Revolution Fanon Wiki

Do you enjoy writing fan fiction for Dinosaur Revolution? Do you enjoy creating fan plot, creatures and episodes? Write them at our sister wiki, Dinosaur Revolution Fanon Wiki!

(As a reminder, fanon is not allowed on Dinosaur Revolution Wiki)
Create an Article!
Here you can create an article. First, please make sure the article you are creating already exists and also make sure it is relevant to the wiki's topic! DO NOT make any spam articles or there will be consequences! Thank you!
---
<createbox> buttonlabel=Create an Article! width=25 editintro=Template:Create an Article bgcolor=#f5fffa </createbox>